The Gentleman's Magazine tells us that, on September 11, 1860, "at Dublin, Thomas Donaldson, esq., 3rd Light Dragoons, eldest son of the late John Donaldson, of Cheswardine, Shropshire, (married) Louisa Helen Elizabeth, eldest dau. of Richard A.H.Kirwan, esq. of Bawnmore, Galway."

The 3rd Light Dragoons were converted to Hussars on August 17, 1861.

He was gazetted Lieutenant on September 2nd, 1862 :
"3d Hussars.- (...) Cornet Thomas Donaldson to be Lieut. by purchase, vice Phibbs."

A daughter, Helen L. Donaldson, was born to "the wife of T.Donaldson, esq., 3rd K.O. Hussars" at Dublin on October 22d, 1862.
A son, Walter K. Donaldson, was born to "the wife of T.Donaldson, esq., 3rd (K.O.) Hussars" at 19, Warrington-place, Upper Mount-street, Dublin, on December 28th, 1863.

Thomas Donaldson was gazetted Captain three years later, on September 1st, 1865 :
"3d Hussars.- Lieut. Thomas Donaldson to be Capt. by purchase, vice Reginald Piffard, who retires."

The next year Captain Thomas Donaldson will be presented by Major-General Rodge, C.B., at the Levée held at St. James's Palace by the Prince of Wales on behalf of the Queen, on March 19 1866.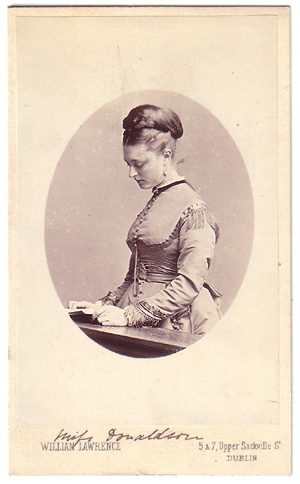 Carte-de-Visite studio W.Lawrence in Dublin
A son was born to "the wife of Capt. Donaldson, King's Own Hussars" at Aldershot in November 1866.
The Times tells us that Captain Donaldson attended the annual regimental dinner of the 3rd Hussars, held on monday evening, May 20 1867 at the albion Tavern, Aldersgate-street.
This was to be one of his last public functions, as he died on July 13th, 1867, at Hounslow, "of severe injuries caused by his horse falling on him, aged 31."
He may well have been the person alluded to in The Times in its June 26th edition :
"Yesterday morning one of those little military displays to which the public are treated occasionnally took place at Wormwood-scrubs. (...) The troops then marched past the saluting-point by squadrons at a walk ; (...) the 3d Hussars, by half-sections, at a gallop, performing the sword exercise, which elicited a round of applause from the spectators. The troops then galloped past by squadrons, left in front, formed line, and advanced to the saluting-point and saluted the General, which terminated the field movements. We are sorry to say one of the 3d Hussars met with a severe accident. In one of the charges his horse fell, and he not being able to extricate himself, the horse rolled on him. The surgeons were promptly in attendance, and the unfortunate man was removed in an ambulance. Three men of the Royal Horse Guards were also unhorsed, but, we believe, did not sustain any injuries beyond severe contusion. (...)"
Colonel Howard-Vyse had been able to provide reassuring news in a letter to the Editor published on July 3d :
"Hounslow, July 2. Sir,-It having appeared in a newspaper that a soldier of the 3d (King's Own) Hussars, whose horse fell and rolled over him in a charge at the brigade field-day on Wormwood Scrubbs on the 25th ult., has died from the injuries he received, I should be obliged by your contradicting the report, as I have much pleasure in stating that the man alluded to has so far recovered that he will be able to resume his regular duties in a few days. I am, (...)"
Did Donaldson's condition then worsen ?
Probably as the circumstances are much too similar not to be connected.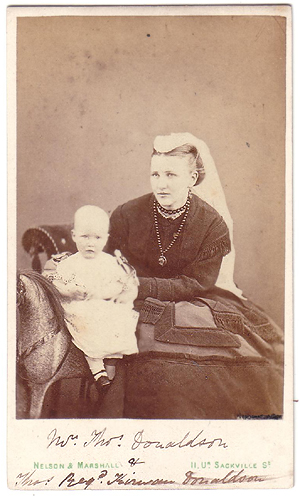 Carte-de-Visite studio Nelson & Marshall in Dublin
Another son was born around that time to his widow : Thomas Reginald Kirwan Donaldson, in the district of Brentford, Middlesex.
She will marry again, as published by the Times on June 7th, 1870 :
"MARRIAGE
On the 1st June, at Christ Church, Bray, by the Rev. J.G.Scott, assisted by the Rev. Ralph Meredith; A.C.Wolseley Cox, Esq., Lieutenant 12th Lancers, A.D.C. to General Lord Strathnairn, G.C.B., G.C.S.I., to Helen S.E.Donaldson, widow of the late Capt. Donaldson, 3d (K.O.) Hussars, and eldest daughter of R.A.H.Kirwan, Esq., of Baunmore, county Galway."
Ambrose Clement Wolseley Cox will sell out on August 9th inst. They will have a son, Garnet Wolseley Cox (c. 1873 - 11 Nov. 1904), a future composer.