United Kingdom
7th (Queen's Own) Hussars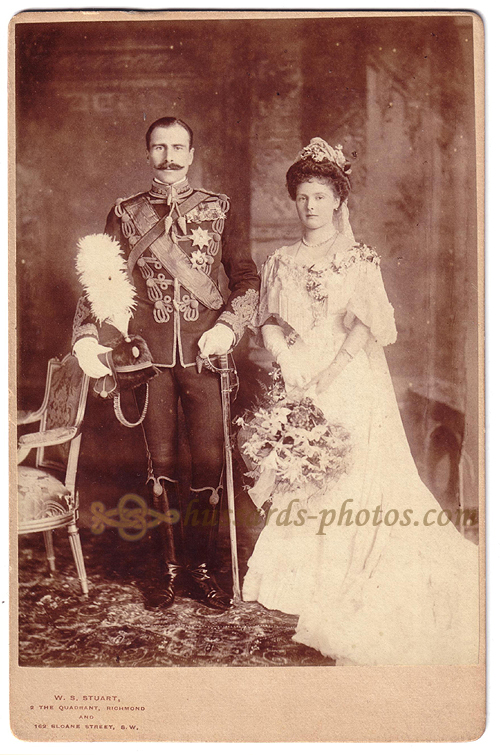 Cabinet Card W.S. Stuart
Prince Alexander of Teck, Captain, and Bride, Princess Alice of Albany

Prince Alexander of Teck married Princess Alice on February 10 1904.
He had joined the 7th Hussars in 1894, and taken part in the 1897 Matabele Campaign (Medal) and the Boer War (D.S.O., Q.S.A. Medal with five Clasps). He had been promoted to Captain in 1900.
In 1917 he will relinquish his German titles and adopt the surname of "Cambridge". He will be mase Earl of Athlone.

Note the specific way the cap lines are tied just under the collar instead of being tied to the right side of the tunic. This specific pattern seems to have been characteristic of the 7th Hussars (all ranks).
The pouch belt of the 7th did not sport any chains and pickers on the front.
The way his white shirt collar shows was also typical of the officers of the Regiment ; this custom was said to be in remambrance of their former days, when their facing colour was white.

This photo also shows the specific later collar braiding, and the shortened busby later version - a shortening certainly compensated by the hypertrophy of the plume !